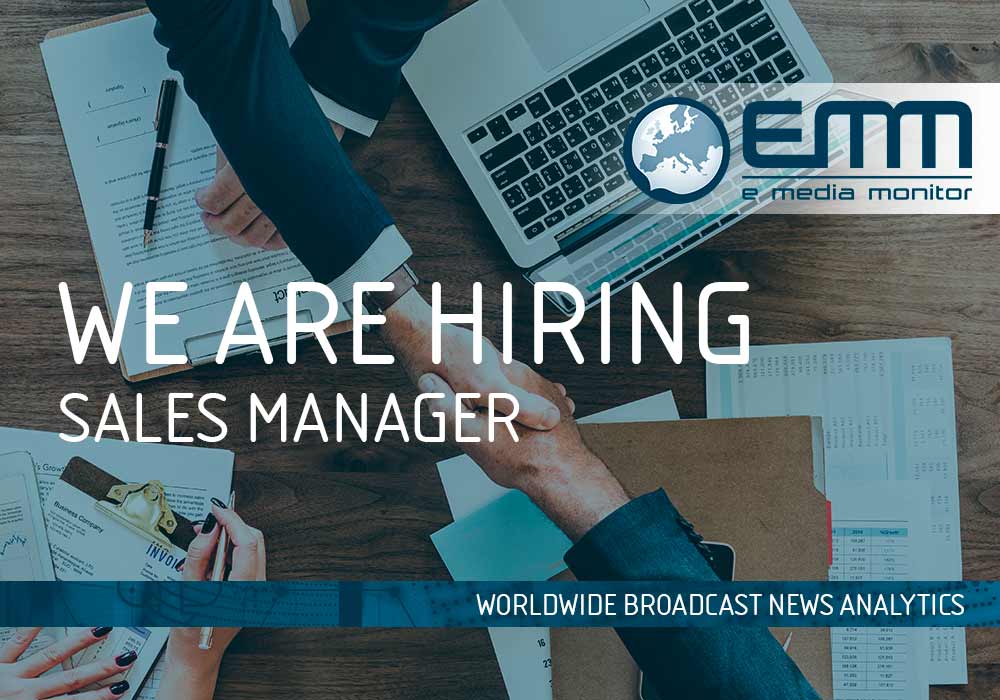 Sales Manager (f/m; fulltime)
eMedia Monitor is the leader in real-time Radio and TV Monitoring. Over the last ten years we have constantly redefined the state-of-the-art in our industry. We are expanding our team in Vienna, you have the opportunity to join the sales team.
JOIN US AND BECOME PART OF ONE OF THE LEADING MEDIA MONITORING COMPANIES. AS SALES MANAGER YOU WILL PLAY A KEY ROLE AS WE DRIVE INTERNATIONAL SALES.
In order do qualify for this position, you should possess no less than 3 years of B2B sales experience.
Your Role in our Team
Serve as point of contact for customer account management and relationship matters
Build and maintain strong and long-lasting client relationships
Identify and acquire new business on a regular basis to ensure a consistent flow of new clients and projects for eMM
Develop new business with existing clients and/or identify areas of improvement to meet sales quotas
Ensure the timely and successful delivery of our solutions according to customer needs and objectives by working with service oriented
Educateprospective clients on eMM's offerings, adapt our value proposition to various client groups
Achieving and exceeding financial and telesales targets
Create and execute cold call and email campaigns to identify potential opportunities and build sales-pipeline
Collaborate with marketing team to identify growth opportunities and acquisition strategies
Maintain awareness of market trends, competitive landscape and industry changes
Identify and communicate opportunities for process improvement and share creative ideas to make the process and outcomes stronger
What You Need to Bring to Our Team
2 -3 years of previous software sales experience
Excellent communication skills (oral, written and presentation) in English, a native speaker would be an advantage
Demonstrable ability to communicate and influence key stakeholders at all levels
A solid understanding of consultative sales solutions, contract structure options and associated complexity
Experience in delivering client-focused solutions to customer needs
Ability to seamlessly juggle multiple accounts while maintaining a keen eye on details
Able to manage time effectively, work independently, be results driven and be self-motivated to generate a pipeline; strong problem solving organizational skills and planning skills
Have highest level of honesty and integrity
Flexible and want to work in an evolving and growing organization
Ability to work under pressure to meet deadlines and financial objectives
Ability to travel to customer sites for off-site meetings and company related function, etc.
A history record of meeting goals and revenue targets with personal drive and internal motivation toward high achievement
Ability to work collaboratively and effectively in a high performing team-oriented environment
We offer a monthly salary starting at € 2.700,00 (gross income), paid out 14 times a year, overpay is possible depending on qualifications.
Please send your application (including CV and statement of motivation) by email to application2021@emediamonitor.net